I was devastated to learn yesterday that while I was listening to Blackstar on Sunday, the album's author and voice was dead or dying. I was stunned by the music he had produced at such a late stage in his life and career, but the lyrics to those seven songs took on a whole new significance the following day.
The statement in Lazarus, whose video was on rotation on international news channels all day yesterday, is now glaringly obvious, but Dollar Days took on a whole new profundity yesterday. As for the title track video – it's just awe inspiring. Of course I got that it's Major Tom in that opening scene straight away, but again today having listened back to Space Oddity, Starman and Ashes To Ashes and revisiting the character Thomas Jerome Newton in the movie The Man Who Fell To Earth, I now have a sense of a magnificent ascension piece bringing the life story of Major Tom to its climax, (almost) solving the mystery of who he was and painting a picture of his afterlife.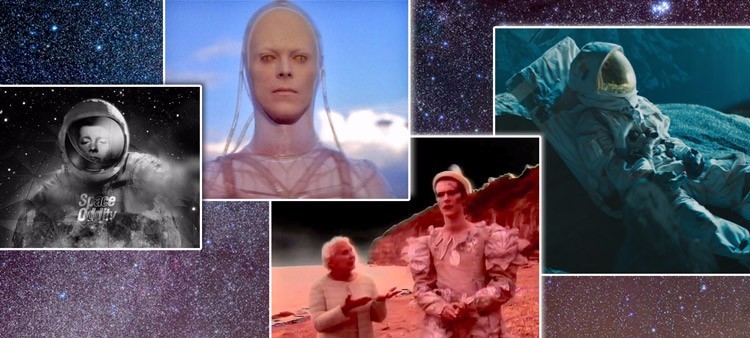 I'm minded of how well Bowie exploited the medium of the music video to add layers and depth to what he communicated through his music and words. With the exception of only occasionally more direct songs like Valentine's Day form 2013's The Next Day, it was often only through the videos that we read the social observations made in his usually cryptic lyrics like his take on the relationship between indigenous and white/British Australia depicted in the Let's Dance video.
I think Bowie was aware of this artistic dilemma when, beginning his pioneering embrace of interactive media in the 90s, he released the CD-ROM Jump on the back of 1993's Black Tie White Noise release. Through this new medium he invited his audience to engage participatively with his work while reminding us that he was an interdisciplinary artist. The disturbing yet beautiful 10min Blackstar video, included on the album, is therefore at least as valuable a component of his parting gift to us as any, if not all, of the other seven tracks.

The music itself, which hit me like a wave of authentically free musical energy, is at once mature and vivacious; dark and illuminating; chaotic and controlled; cerebral and soulful. It was the rumours of free jazz elements within that drew me to it immediately on its release. It didn't disappoint. We're not talking random outbursts of freneticism here. 'Tis a Pity She Was a Whore manages to successfully wrap conventional harmony and rhythm around a free jazz core, re-connecting soul to a jazz source of innovation. This album's version of Sue (Or In a Season of Crime) does something similar with rock. That track is what prog rock should have always been – although it originally appeared as a sumptuous big band jazz adventure riding a rolling Drum 'n Bass groove on the 2014 best-of compilation Nothing Has Changed.
The more conventional closing track on Blackstar, I Can't Give Everything Away, brings those reaching for the railings onto more solid ground for a denouement with the feel of a road movie's end-credits track in which Bowie tells us, 'that's all, I'm done now'.
Blackstar truly is a master work. If I didn't know what we do now I would feel slightly cheated by its relative brevity, but who knows what effort it might have taken to complete the album alongside the musical theatre project Lazarus given Bowie's condition. Most importantly, I understand now that it's more than just a musically brilliant album, it's the core of the orchestration of what is probably David Jones' most significant and shining art-work – his own death.
Rest In Peace and Power Major Tom.