"The Deeper They Bury Me" trailer (1m 36s)
The late Black Panther activist Herman Wallace, who spent forty-one years in solitary confinement for a conviction based on an unconstitutional indictment, has more to share from the grave – perhaps pertinently, in a virtual environment.
Background
Herman Wallace was one of what came to be known as the Angola 3. He was originally sent to America's most infamous (mainland domestic) prison, Louisiana State Penitentiary, a.k.a. Angola, in 1971 following a conviction for armed robbery.
As members of the prison's rehabilitative chapter of the Black Panthers, Wallace, Albert Woodfox and Robert King became activists seeking to improve conditions in Angola. They helped organise petitions and hunger strikes to protest racial segregation within the prison, and to end widespread rape and violence.
All three were convicted of the 1972 stabbing murder of 23-year-old prison guard Brent Miller. They were taken out of the general prison population and held in solitary confinement. The only eyewitness account of the incident exonerated the men but was excluded from evidence. Despite a lack of any physical evidence, Robert King remained in solitary confinement for 29 years and Wallace for a further 12 years before his eventual release from prison on humanitarian grounds. Albert Woodfox wasn't released until June this year (2015).
It's widely believed that the men were being punished for their political activity. Amnesty International adopted the campaign to release the Angola 3, listing the men as political prisoners. Long-term solitary confinement itself is considered by Amnesty International as "cruel and unusual punishment" under US law and the UN has ruled it as unlawful under the United Nations Convention Against Torture. Even Brent Miller's widow, unconvinced after years of "looking at the evidence" and "soul searching", joined the call to over-turn the convictions.
The time Wallace and Woodfox spent in Angola far exceeded the terms they would likely have served for their original offences. Herman Wallace died of liver cancer 3 days after his release on 4th October 2013.
Poem: "A Defined Voice" by Herman Wallace (1m 24s)*
Artistic collaboration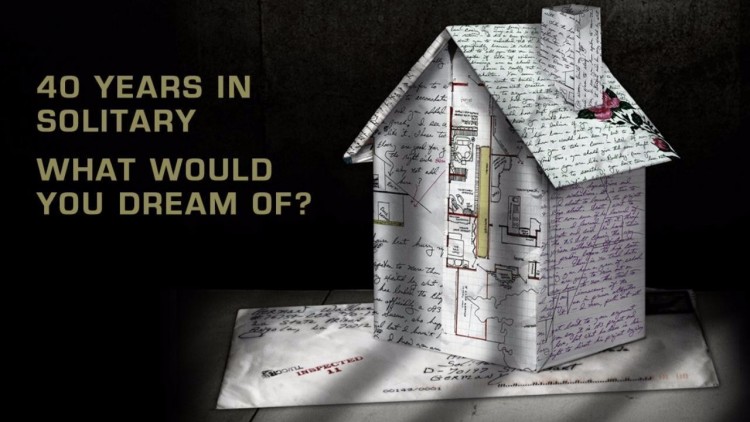 During Wallace's time in solitary confinement, visual artist and activist Jackie Sumell asked him a simple question: "What kind of house does a man who has lived in a 6′ x 9′ box for more than thirty years dream of?" Thus was born the "dream house": Wallace's ideal house that found a physical form in an art installation, The House that Herman Built. This dream house became the emotional, and ultimately physical, space Wallace envisioned as his ideal world of justice, humanity, and peace—with it, Wallace carved out what freedom he could. The multidisciplinary project included scale models and illustrations, as well as a movie, Angad Singh Bhalla's award-winning documentary Herman's House, which explored Wallace and Sumell's artistic collaboration.
Angad Singh Bhalla's latest film, published on the National Film Board of Canada's interactive platform, takes us deeper into the courageous and visionary mind of the late Herman Wallace. The Deeper They Bury Me is an interactive portrait that takes place as a twenty-minute phone call in Wallace's entirely isolated prison cell. This constrained allotment of time and space reflects the realistic conditions Wallace, along with many other wrongfully incarcerated citizens, experienced at Angola and similar correctional facilities. The title is taken from a poem Wallace wrote, "A Defined Voice".
The holy grail of many documentary filmmakers is to genuinely and authentically position the audience inside the story space. This is one of the drivers behind some documentarians' interest in interactive media and VR. Throughout this piece, participants are transported to Wallace's dream room through immersive animated illustrations, archival images, and poetic words. Bhalla and co-director Ted Biggs collaborated with Helios Design Labs and animator Nicolas Brault in order to create this digital portrait.
I'm a big fan of NFB Interactive who are pioneering interactive, immersive and cross-platform storytelling around important social issues. I do wonder, however, if its technology base (Flash® enabled desktop web browsers only) limits the platform's reach and therefore impact – especially in an age when an ever increasing proportion of time spent online is via mobile.
However, The Deeper They Bury Me succeeds in reflecting Wallace's courageous efforts (which continued throughout his time in solitary confinement) to create a community within a prison system that stifles more than 2.3 million citizens living behind bars. It's a fitting memorial and, as an important archive, a valuable reference for a younger 21st century audience still engaged in the struggles that consumed this heroic Black Panther for most of his adult life.
http://acallfromherman.nfb.ca/#/intro
*Poem sourced from prisonradio.org
The American Civil Liberties Union (ACLU) is continuing the campaign against longterm solitary confinement. You can find out more here.