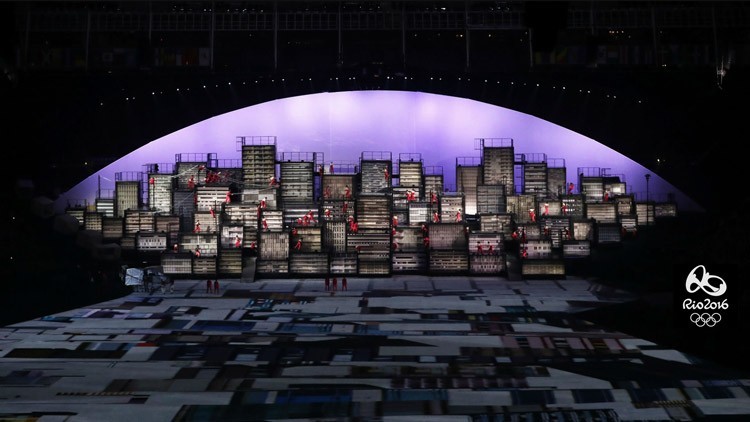 Working with video projections for live performance, particularly in theatre, I've often struggled with requests motivated solely by a desire to save costs on set building . My scepticism comes from two places. Firstly that motivation usually results in disingenuous engagement with digital creativity which compromises the integrity of the work and secondly because it's usually just plain wrong to assume that projection is a cheap option.
However, there are scenarios when creative applications of technology come to the rescue in situations where there is a paucity of financial resources. In my experience this always works best where there is a pre-existing culture of creative ingenuity that is technology agnostic. Few places in the world exemplify this better than Brazil whose culture has generated the term gambiarra, which was one of the themes of Rio's Olympic opening ceremony. There is no direct translation into English. We can try and define it as the art of making something out of what others might cast aside through creativity, ingenuity and improvisation. It makes most sense, however, if you experience it in the culture, which happens when you visit a favela.
Favela is another word for which there is no English translation. It's often (unhelpfully) translated into English as 'slum'. While, all favelas were born out the necessity of poverty, homelessness and neglect, and there are examples of extreme poverty in most of them, the slum descriptor is a problematic generalisation. Violence is often sensationalised as part of that stigmatisation. The implication being that it is of the residents' making. Ironically the preparation for these games has served to bring into sharp focus how and by whom violence is most often perpetrated in the favelas.
Nevertheless there are very few examples in the world of people making so much out of so little. In most favelas you'll find thriving retail businesses, innovative (informal) solutions to plumbing and electricity supply, unique (if sometimes precarious) architectural solutions, great street art and constant innovation in music and dance. I remember attending my first funk rave in a favela, where before it was common in the UK, every DJ was a laptop DJ – playing on open source software and carrying their record box around their necks on a USB stick. The sets were being recorded, burned to CD and instantly sold from a stall to the side of the stage. But my first experience was working with the organisation responsible for this amazing percussion performance outfit, Afro Lata – lata meaning tin, can or trash can.
Afro Lata in rehearsal in the favela of Vigaro Geral, Rio de Janeiro – 1m56s

So what has this meant for Rio's Olympics, plagued with so many issues that it's impossible to set aside wider socio-economic concerns in the way that we did, albeit temporarily, here in London in 2012? People had been (often forcibly) relocated, promises had been broken, the government was in turmoil and the city/nation could ill afford the expense. There was no way that Rio could spend anything like the £30million that London spent on its opening ceremony. Yet it was going to happen anyway and they needed to find a way to create a similar narrative spectacle to that of Bejing and London.
Just take a look at some of the images from the London 2012 opening ceremony above. The elaborate mechanical sets. The entire floor of the stadium became an evolving physical manifestation of England's history and topography. How is it remotely possible to do anything like that on 1/10th of the London budget? Well it's not, but Brazil has gambiarra and in 2016 digital projection has reached new heights.
Today single projectors can be made, through projection mapping, to achieve things that several projectors in different positions, fed by multiple synchronised sources would be needed to do. Multiple powerful projectors can be made to act as one through sophisticated software control and to cover an entire gargantuan floor surface in an irregular shape. Could this technology be used to create the illusion of a physically evolving landscape?
From geometric agricultural landscapes to rising cityscapes with dancers appearing to be free-running across roof tops, Rio managed to effectively replace London's expansive array of computer controlled mechanised 3-dimensional sets and specially cultivated grassy knolls with a plain white floor and, at least emotively, create a similar effect. There was one piece of physical set construction – fixed. That too was re-used – or re-cycled in the tradition of gambiarra – using projection mapping and lightboxes so that it could be a city skyline and facade for parkour one moment, a video wall at another and a theatrical/rock-n-roll stage set the next.
Yet the crowning glory was to come last of all. After a 2 hour nap during the teams' entrances, I returned to my TV satisfied that gambiarra had saved the day. I looked at a basic metal bowl that was the cauldron, content with what had gone before, and let the sound "ahh" fall out of my mouth somewhat patronisingly. Yet as it rose into the air, I began to wonder if I was indeed being condescending. It turned out I was as "ahh" turned into "wow" and I started doing my own culturally specific thing of frantically waving my hand in the air clacking my index and middle fingers together. Rio had just taken the cauldron gold medal with the smallest, lowest emission device in decades. As the bowl reached its apex, a kinetic sculpture of golden mirrors was set in motion spiralling around the relatively tiny flame amplifying it and suggesting in its totality an almost spiritual representation of the sun. It's just stunningly beautiful in its art and symbolism.
Edited selected highlights of the Rio2016 Olympic opening ceremony – 8m32s
As is usually the case, we won't see the cauldron again until week two of the games, when the athletics gets going. There's now even more to look forward to than Usain Bolt – and it'll last a lot longer than 9.5seconds!
Given linguistic expression in Brazil, gambiarra is essentially African. It exists throughout the African Diaspora from South African townships like Soweto during apartheid where artists made now classic sculpture out of the barbed wire intended to imprison them, through the DIY sound systems and dub studios of Kingston, Jamaica to the birth of Hip Hop in the Bronx, New York, innovation in the face of adversity has been a source of global creativity and our strength.
It's hard to imagine that any city outside of the Diaspora as troubled as Rio de Janeiro is at the moment could have pulled that ceremony off as successfully they did. It is the African at the centre of Brazilian culture so loudly proclaimed in that ceremony, if not so commonly respected on a day-to-day basis in Brazil, that provided the facility to make so much from so little. Yes it was scrappy in places and the happy, clappy favela scene problematically glossed over some very real travesties, but we're talking Olympic opening ceremonies here. Danny Boyle was lauded for highlighting the importance of the NHS in London 2012. He wasn't criticised for failing to portray the effects of the closures, cuts and backdoor privatisations.
What would have been unforgivable would have been an even greater financial scandal surrounding the ceremony. This event had to be done on a (relative) shoestring and it was gambiarra with a dose of digital tech that saved it.