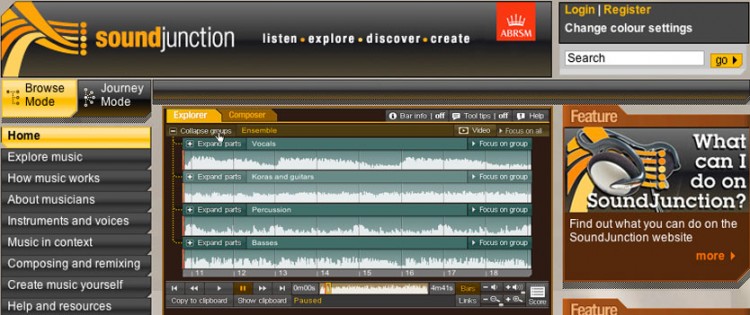 The SoundJunction website's all about music. You can take music apart and find out how it works, create music yourself, find out how other people make music and how they perform it, you can find out about musical instruments, and look at the backgrounds to different musical styles.
The Associated Board of the Royal Schools of Music [ABRSM] is responsible for 70% of the world's instrumental and music theory exams. However, in 2004 their cultural scope was limited to Western Classical music and the potential to support broad and deep cross-cultural creative learning was largely unfulfilled. They were also not particularly well engaged with new technology.
On this dream project I was able to bring to bear my background as a cross-cultural musician alongside more than 10 years in digital media development and production. As producer, alongside project manager Ben Sandbrook, I led on scoping and devising the platform, creating a functional specification and bringing together some of the country's leading figures in professional music making, music education, ethnomusicology and broadcast to form an advisory body and a team of over 100 content contributors. The HyperJAM team delivered video production, post-production and encoding services and commissioned dedicated streaming server infrastructure.
"The word 'revolutionise' may be over used but the judges believe they have seen a new product that has revolutionised a teaching process. Using technology has radically changed how music is taught by enabling students to delve into areas never normally accessible to them and giving learners new insights, new dimensions and new horizons. The judges were quite simply blown away!"
At the centre of the platform is 3 commissioned compositions (one classical, one jazz and one contemporary African) recorded using a bespoke approach that involved recording with video the ensembles performing live and then recording each instrument individually, again with video. These provided the material with which to create the first ever web page embedded music sequencer with which users could take apart and dig deep into the music exploring every element of the performance in detail. In addition the recorded elements were made available in segments along with a vast library of other samples to allow users to make their own music.
Alongside the communities of musicians, writers, musicologists and the core team of creatives and technologists working across the ABRSM and the commissioned agency and film production companies, were communities of young learners and teachers – representing our end users. From young learners we learned that making the vast wealth of content available in a way that allowed for learning through creative exploration and discovery would be most effective. The innovative "Explorer" music sequencer tool facilitated content discovery via tags along the timeline/waveform of each full recording and each individual instrument track. A feature akin to that realised some time later in Soundcloud. On Soundjunction this feature operated distinctly across multiple tracks.
However, we also understood that planning is important for teachers in schools. Our community of teachers led us to a solution in the form of a tool that recorded journeys through the platform as "Learning Trails" that could be saved, catalogued and shared as lesson plans. Our core community of teachers were employed to create an initial repository of trails based around key concepts from the National and ABRSM music theory grades Curricula. This core community later became project champions, growing the community and encouraging wider participation in content development.
During the two year contract I was responsible for reporting to the ABRSM board and the project commissioners at the UK government Department of Culture Media and Sport. I led on the launch, drafting in an external specialist PR consultancy to supplement ABRSM's internal marketing department and producing a launch event that received national mainstream press coverage. During its first month Soundjunction was covered in every music press print publication, across all genres, in the UK.
SoundJunction went on to win seven industry awards including a BIMA, a BETT, a New Media Age, a Music Industry Association and two Association of Online Publishing awards.
Check out these video demos of some of SoundJunction's innovative embedded tools here:

Below is a list of some of the platform's features.
Listen to music
SoundJunction's full of different styles of music. The site commissioned three new pieces – an African song, a jazz/big band song and an orchestral piece. Then we asked musicians to make remixes of these pieces – rock, drum 'n' bass, broken jazz, fusion and experimental. There are also over 300 other pieces of music from around the world, across the site.
Take music apart and find out how it works
Using interactive online tools, users can take this music apart and find out how it works by experimenting and listening. Users don't need to know about music to understand SoundJunction. For those that do, there's a lot more to discover still.
Create your own music
Make your own music online, drawing from thousands of samples, using the SoundJunction Composer tool. Jump to "How to create music in SoundJunction" or go to "Create music yourself" for composing guides. Or check out the "Composer Forum" for music other people have made on the site.
How do people make music?
Find out how composers, writers, producers and remix artists make music. Watch them explaining the process on video.
Musical instruments
Watch over 200 demonstrations on video of musical instruments – how they work, how to play them etc.
How do you become a pro musician?
Over 40 professional musicians talk on film about how they got to where they are, and what they think of it.
Background to different musical styles
Find out how hymns and jazz gave rise to hip hop, how European music has developed over 500 years, how traditional African music is different from the West, how a traditional song from the Pacific Solomon Islands ended up in Norway, or much more.
Teach music
SoundJunction's an enormous free music learning resource with around 1,000 pages of information and activities. The "Teacher Resources" section contains ideas on how to use the site in the classroom.
Choose your own style of navigation
Browse around the site freely, or use Journey mode to track progress and get suggestions on further steps, or go to the "Learning Trail" forum for some step-by-step trails on particular subjects and issues.

---
Awards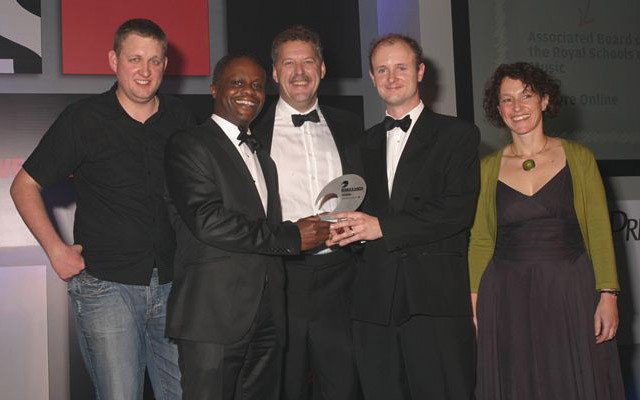 BETT (British Educational Training and Technology) Awards 2007
Secondary content for all non-core subjects
BIMA (British Interactive Media Association) Awards 2006
Education and Training
e-Learning Age Awards 2006
Most innovative new product in e-learning
AOP (Association of Online Publishing) Awards 2006 (2)
Innovation
Best New Launch
MIA (Music Industries Association) Awards 2006
Best Supplier Initiative
NMA (New Media Age) Effectiveness Awards 2006
Music