Between 2002 and 2006 I spent five years as in house media artist with contemporary dance company Union Dance. Founded by artistic director Corrine Bougaard in 1985, the company built a reputation of excellence around its trademark fusion of contemporary and street dance styles with martial arts. Choreographers worked with included Wayne McGregor, Akram Khan, Rafael Bonachela, Vincent Mantsoe, Doug Elkins and, while a dancer with the company, Bawren Tavaziva. The company's cultural diversity was represented through the dancers/artists it employed and the dance traditions it drew upon.
Employing digital technology and media was a natural extension of their practice. I was able to work with them across all aspects of my practice from music composition and sound design through to video projection design and physical interactivity. With the latter I experimented with inverting the relationship between dancers and music/sound and sharing real time control of the audio visual environment with performers.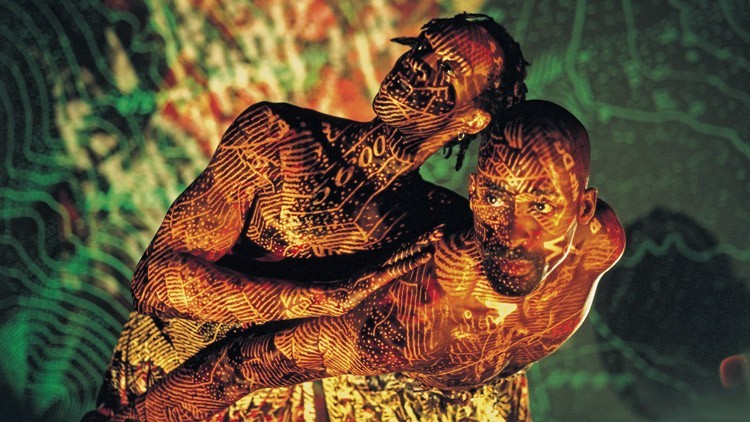 The residency, which in essence is what the five year engagement was, opened up the process of collaboration seeing me collaborating not just with choreographers and dancers, but also with costume, set and lighting designers, as well as other musicians and visual artists. It also provided the first opportunity to realise a long held ambition to integrate music and live video performance, employing my live percussion playing to trigger video projections on one production.
The engagement extended beyond the four productions developed and toured internationally. Working with the education department, programmes were developed that integrated digital media production, filmmaking and software programming with dance to deliver truly interdisciplinary and broadly inclusive learning and participation solutions to schools and youth organisations. Projects saw students filling public spaces with interactive installations, pop-up dance performances and short film screenings.

Soundtrack to the first half of the Union Dance show "Imaging The Invisible" 2002