Cage Street Memorial is an original solo narrative theatre work; an affectionate, deeply personal chronicle of a woman's past and journey to her future. Presented in the form of a simple oration of love from one woman to her grandparents, it is also a reflection upon seismic culture shifts and attitudes in racial and social history.
Chronicling the Black experience over a hundred years, CSM parallels August Wilson's "Century Cycle" by straddling the personal and the political, the universal and the domestic, reaching out to "any who dares reflect on roads travelled in pursuit of a personal truth".
This project, currently in development, enables Anderson and a strong creative team brought together by producer Derek Richards to develop CSM as a powerful performance, which will tour nationally in 2018. It utilises music, song and poetry alongside film sequences of Anderson's family recollections and key historical events. 3D mapped projections, facilitating Carleen's engagement with virtual characters and environments; live video feeds, and devices such as a prayer/hymn book secreted with objects and supplied to each audience member, will immerse the audience in the powerful experience of her grandfather's church services. These services were participatory song and storytelling experiences that have inspired Anderson to create the musical, but for Cage Street Memorial the guiding voice will be Anderson's own.
About Carleen Anderson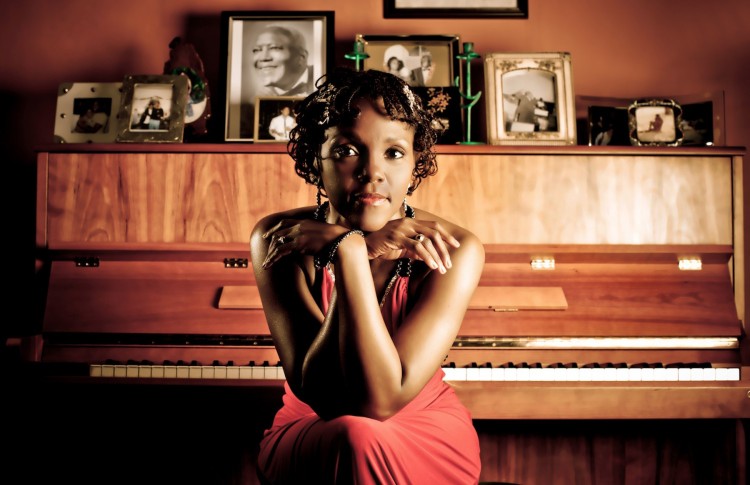 With a family tree that includes a vast wealth of American music heroes, the long-standing success that soul singer Carleen Anderson should never have been in doubt. Known for her gospel infused approach to the genre, the 2013 Jazz FM award winner has built a prominent reputation around her eclectic performances and her quick selling Ronnie Scott's shows are renowned. – Jazz FM

Carleen Anderson is a legend. The deeply soulful singer, songwriter, has created some of the most influential and consistent music of the past decade. – Gilles Peterson, award-winning DJ, record producer, founder & owner of Talkin' Loud and Brownswood records.

For live performances, everyone should see Carleen Anderson, at least three times in their lives. I'd hang around all day just to hear her sound check. – Amy Winehouse, singer

She's not just good, she's phenomenal – James Brown, legendary singer/performer
One of the most powerful vocalists today, 2013 Jazz FM UK Vocalist of the Year, Carleen Anderson was born in Houston, Texas and reared on the sounds of Gospel music inherited from the Pentecostal church where the pastor, David Anderson, Sr., her paternal Grandfather, and her Grandmother Alberta, raised her from an infant.
Soul music training was from James Brown (Godfather), Bobby Byrd (Step-father), and Vicki Anderson (aka Myra Barnes – biological Mother). She studied classical and jazz music at the University of Southern California and Classical Literature at UCLA before migrating to the UK in 1990 where, with Femi Williams and Marco Nelson, she formed the Young Disciples, which according to the book The Techno Primer, "set the tone" for the Acid Jazz movement of the 90s. Their album Road To Freedom was nominated for the 1992 Mercury Prize and the single Apparently Nothing became a UK top 20 and international dance floor hit.
Carleen signed to Virgin Records' Circa label in 1992. Her first solo album, True Spirit, released in 1994, was nominated for a Brit Award in 1995. Her 2nd solo album, Blessed Burden, was co-produced with Paul Weller in 1998.
From early 1999 to late 2000, she toured with the Brand New Heavies as their lead singer. Her first independent album, Alberta's Grand Daughter, released in 2002, was produced by Ben Castle, (famed trumpeter, Roy Castle's son), Mark Edwards and Colin Walker.
In 2003, Orange Room Records released a live performance DVD/CD, Grace and Favours, which includes an impromptu performance with her Godfather, James Brown. EMI released a Best of Carleen Anderson CD, Up to Now, in 2004. Dome Records released her album, Soul Providence, in 2005, also produced by Mark Edwards, Ben Castle and Colin Walker, with duet performances with Paul Weller and Jocelyn Brown.
In 2006, a guest appearance with Sir John Dankworth and his band, along with a special acknowledgement from Dame Cleo Laine, led to her current sold out residencies at the world famous Ronnie Scott's Jazz Club.
Carleen was the Head of the vocal department at the Brighton Institute of Modern Music, where she taught vocal performance from 2002 to 2007, which led to her performing for and meeting HM the Queen in 2007, the same year in which Carleen was the presenter at the BBC Jazz Music Awards.
A short list of her diverse collaborations includes Johnny Cash, Paul McCartney, Jocelyn Brow­n, Chrissie Hynde, Guru, Omar, Dr. John, Courtney Pine, The London Community Gospel Choir, the Guy Barker Orchestra, Incognito, Ocean Colour Scene, The Ronnie Scott's All Stars, and many other musical legends and luminaries.
The team
Derek Richards – creative producer; media artist
Tim Hopkins – director; designer
Tim Hopkins has been directing and designing for opera since 1998. He has been commissioned to direct new productions of historic and contemporary repertoire for The Royal Opera, Welsh National Opera, ENO, Opera North, Glimmerglass, Teatro dell'Opera Roma, Bayerische Staatsoper Festspiel, Theatre Basel, Buhnen Graz, Staatsoper Hannover, Wexford Festival, ETO, Alternative Lyrique Paris, Almeida Opera, Aldeburgh Festival, Channel 4 TV, BBC TV, The Southbank Centre London, and others. In 2001 he was awarded a Fellowship from NESTA, to look at the interface between lyric theatre, new technology, TV, film and emerging forms. This commitment was full-time from 2002 culminating in a presentation to Opera Europa's Valencia conference in 2005.
In 2006 Hopkins fully resumed his professional opera practice, directing repertoire and making new pieces. In 2007 he was awarded an AHRC Creative Artists Fellowship, hosted by the Centre for Research in Opera and Music Theatre, Dept of Music, University of Sussex, running part-time until 2012. Recent work includes Proms Music Walk 2012, a cross-platform site specific and digital work as part of the 2012 BBC Proms to celebrate the 100th anniversary of the birth of John Cage. He is currently in development on a commission from the Welsh National Opera to create and direct a new media theatre/lyric work for 2014/15.
Orphy Robinson – musical director / lead musician 
Orphy Robinson is an award-winning Vibraphonist and multi-instrumentalist, an acclaimed soloist who consistently works across a variety of eclectic musical forms – e.g. jazz, free jazz, free improvisation, jazz fusion, and funk music. Audiences discovered his playing while he played with saxophonist Courtney Pine in the 1980s big band Jazz Warriors. An in demand and versatile composer, he has written music for television, film, theatre, opera and contemporary classical music. He released two critically acclaimed solo albums on the famous Blue Note label in the 1990s, When Tomorrow Comes and The Vibes Describes. He has also toured or appeared with many artists including David Murray, Don Cherry, John Tchicai, Lester Bowie, Wynton Marsalis, Hugh Masekela, Louis Moholo, Nana Vasconcelos, Andy Sheppard, Evan Parker, Butch Morris, Springheel Jack, Sunny Murray, Neneh Cherry, Hugh Hopper and Robert Wyatt. Since 2009 Orphy has been featured soloist on Marimba/Vibraphone with the orchestra of virtuoso violinist Nigel Kennedy.
For more info and other current team members' biogs visit cagestreetmemorial.com