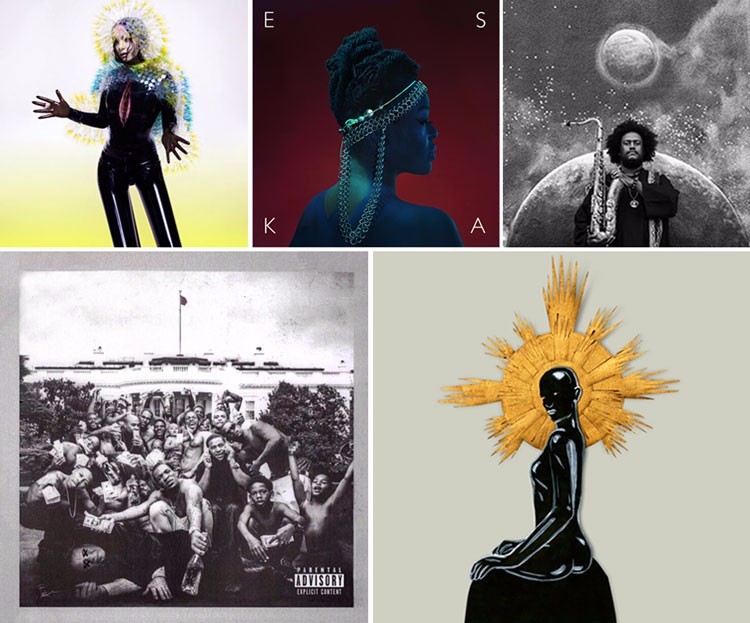 I don't normally do this end of year best of thing, but I'm getting tired of hearing grumpy old men bemoaning "the death of music" – and a grumpy old man just made me tired. This is how it goes. Grumpy old man number 1 says something like, "Ah they don't make quality music anymore".
Now don't get me wrong, I've always got time in front of my stereo to pull out some Ella, Bird, Stevie, Marley or even Bach, Beethoven or Debussy. But in response to grumpy old man number 1 here (in no particular order) are the top 5 of my 2015 acquisitions (that were actually released in 2015).
Kendrick Lamar – To Pimp A Butterfly
Kamasi Washington – The Epic
Björk – Vulnicura
Sons of Kemet – Lest We Forget What We Came Here To Do
Eska – Eska
What determines their listing here is first and foremost that at the end of the year these albums are still off the shelf and in the play pile next to my CD player and turntable. But what they also have in common is innovation, immediacy, richness and depth. Yes all of these artists are still innovating. Music is still evolving in the hands of these dedicated creatives and they're just the tip of the iceberg.  Yes I do still listen to old music, but I defy anyone to hear these albums and dispute their quality.
So then there's grumpy old man number 2 (I'm not sure which is Jack Lemon and which is Walter Matthau by the way), he says "music is dead" as he ruminates on the decline in record sales in the age of that fangled digerital Interweb and YouChoons piracy thing.
Thing is though, music making is as old as humanity. The first musical instruments are believed to be as old as 40,000 years, but it's likely that we used our bodies, voices and the materiality of our environment way before then. The record industry is only about 120 years old. Less if you only take it from the point at which royalties on record sales – at the core of the business model – replaced fees and wages. That's a tiny drop in an ocean of music making. So the record industry's pulse is hardly a sign-of-life as far as music making is concerned.
Now I can sometimes understand what drives these purveyors of doom to despair. Billboard magazine, for example, just named Adele's 21 the "greatest album of all time"!(?) According to the U.S. industry's periodic bible, Joss Stone is 2015's reggae artist of the year! [I'll just pause while you pick yourself and your chair up off the floor.] Actually Stone's accolade is based on sales of her latest album Water for Your Soul, which featured a number of reggae, jazz and hip hop musicians and writing collaborators including Dennis Bovell and Damian Marley as well as my friends Orphy Robinson, Neville Malcolm and Aswad guitarist and Jazz Jamaica founder Alan Weekes.  Having sold only 27,000 copies in the U.S., Water For Soul's positioning is an indictment of the current state of an industry based on selling records (physically or digitally).
Despite Stone herself saying that Hip Hop is "the backbone" of the album, Billboard saw fit to categorise it as Reggae. At the centre of America's genre classification obsessed industry, Billboard is part of a system that's dying during relative infancy. It doesn't and never has represented the huge breadth of quality music making by the majority of musicians and communities on the planet.
This year I've enjoyed some great live music experiences, most notably Eska's two London gigs, Jazz Re:freshed's Jazz Re:Fest, Kamasi Washington at the London Jazz Festival and what's become the crucible of communal spontaneous creativity that is Freedom: The Art of Improvisation every month at Hackney's Vortex. I've enjoyed watching, playing, learning and making great music and I'm looking forward to 2016 providing more to enrich my life. So here's to 2015 – a year, like every year, of great music.
Oh, and the list above isn't my alternative offering to Billboard's proclamations. I'm not making any claim to be anointing the best albums of 2015. Just listing what I think are the best 2015 releases I bought this year. You can always add yours to the comments if you like.
Meanwhile have an enjoyable transition into 2016 y'all and do it with some great music – old and new.